Male Chastity Cages can be Fun
Male chastity cages typically play a large role in the chastity lifestyle but what a lot of people are not aware of is that these cages can be used to have a lot of fun through playing sexual games. Granted, the majority of couples in these types of relationships use cages as a part of daily life. There is another way to utilize them, too. They can be simply a part of some weekend fun with partners switching roles. There is nothing more fun than keeping an open mind with these cages because you can make up all kinds of games with them. Of course, they are made for males because they enclose the penis sort of like a little bird in a cage.
Sometimes male chastity cages are put in place just to challenge a man. His Key Holder may lock his partner into the cage for the weekend and take him out to places with enticing people that will tempt him. The cage will cause lots of problems with that because he won't have the key. That will keep him from being sneaky and slipping off with someone for a quickie. The Key Holder will tease the partner the entire time they are out. Then when they get home, the submissive should be pretty hot and ready for some serious play. That is when the fun begins.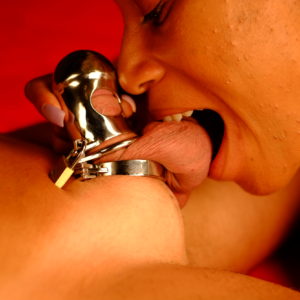 To make things really teasing, the Key Holders can be ultra-sexy while making some exotic dance moves. Maybe there will be sexy clothes involved. The submissives will be desperate to have their male chastity cages removed because they will need release badly. Teasing is much more fun, though, because when release finally is allowed; it will be so much sweeter. He might even be in the mood to go all night after being made to wait for so long.