Male chastity cages have to be some of the most insane inventions ever created. Granted, these cages have a very important purpose and much gratitude is given to the designers who thought of these useful devices. They are basically just as their name implies. Different types of material such as metals and leather are used to fashion miniature cages. These cages come equipped with little locks. These little locks come with tiny keys that are used to lock around the penis. Once the cage is locked in place, the key is taken over by the Key Holder, who will continue to keep the key until the decision is made to reward the man wearing the cage.
When I decided to look into the chastity lifestyle, I had no idea what male chastity cages were. I had heard the term tossed around in certain company but no one had bothered to launch into any explanations as to what these cages were and why they were needed. Of course, I felt too stupid to jump in with my own questions so I just continued to wonder about them as I started to travel my path to chastity. That was one of the biggest mistakes that I made during this entire journey. If I had only taken the time or had the courage to ask what these items were used for, I would have saved myself a lot of heartache.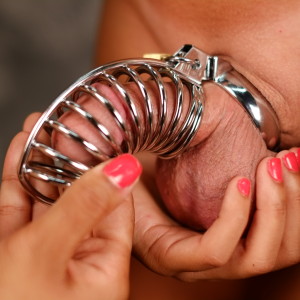 I had the extreme pleasure of training under a gorgeous, dominant and very strong woman for chastity. She even allowed me to choose my own male chastity cages. What neither of us discussed was the fact that these cages must be the correct size in order for them to work. Not armed with this knowledge, I chose one that I just thought looked so very cool. When I got home and decided to try it on just to see how it all worked, I found that it was a little difficult to fit over my cock. Finally, I did get it on and found it to be more than a little stimulating and my penis reacted in kind. That is when the trouble started. I got an erection and the cage remained in place. I tried everything and nothing worked. After a little while, my penis started to turn an unhealthy purplish color. That is when I gave in and called my trainer. She actually raced right over and helped me out of my situation. Then we sat down and had a nice long talk. Yes, I learned quite a lesson that night.