Something that is a bit quirky for the holidays that Key Holders might decide to do for their submissives is to decorate their male chastity cages. This is directed at the Key Holders primarily because the submissives are not going to be allowed to take it upon themselves to decorate their cages. For one thing, they would need to obtain permission for their cages to be decorated and that permission might be hard to get. On the other hand, the Key Holders might just allow this decoration project to happen as long as the submissives are decorating as they are instructed. However, once the process gets under way and is understood by everyone; it is something that can be done for all holidays and/or special occasions.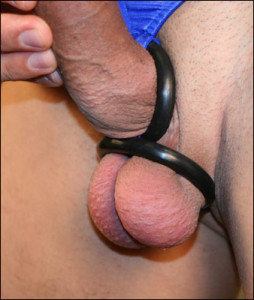 To begin with, it can be rather simple to decorate male chastity cages in the theme of Thanksgiving and Christmas. Cutout turkeys can be created and attached to the cages in a cute and festive manner. Christmas can bring all sorts of new ideas. Tiny little ornaments, much like charms that are bought for bracelets and necklaces, can be hung from the bars of the cages. Some careful planning might even allow some tiny twinkling lights to be attached to the cages. Just imagine how that would look especially in the dark. Halloween can have witches, ghosts, goblins and all sorts of other little homemade creatures can be added to make those cages a little mysterious and spooky.
It is very possible that there are some Key Holders in the world that might have already begun the practice of adorning the male chastity cages of their submissives. Those are some very imaginative and creative Key Holders, too. What is even more fun to add to this process is to instruct the submissives to show off their new decorated cages. This can be done at private parties given by the Key Holders or simply at home when guests arrive. Of course, the guests will need to know ahead of time that the submissive does, indeed, wear a chastity cage and what that lifestyle is all about. Otherwise, they will be rather shocked when a fully naked man with tiny twinkling lights adorning his penis answers the door.